CLT solid wood technology is the most advanced wood construction technology. CLT can be used in all load-bearing and visual structures of the house: Base floor, intermediate floor, roof, exterior walls, dividing walls, railings, terraces and balconies. The exterior walls and roof are the most essential structures to achieve the vapour barrier, clean indoor air and structural safety.
BASIC INFORMATION:
CLT = Cross Laminated Timber
A massive wood panel that consists cross-laminated layers of wood boards
CLT element has at least three layers
Maximum element size is 3.5m x 16m and element thickness is between 60–500mm
Load-bearing structure, non-compressible, airtight and insulating
The surface can be finished and processed in countless ways
Stabilizes the humidity and temperature of a room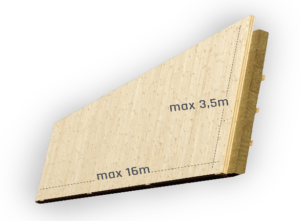 Solid wood panel products revolutionise the efficiency of construction and comfort of living
Efficient
construction
PRECISE
Solid wood panel construction is very precise. The designed furnishings and items fit exactly into place. With design based on BIM (Building Information Model), individual solutions can be implemented cost-efficiently and wasted material will be minimized.
IMAGINATIVE
CLT structures are insulating, load-bearing and visual structures. The body structure enables long bearing distances, inclined surfaces, versatile apertures and structures that cross the building structure from inside to outside. The panels can be milled to any form.
EFFORTLESS
Items can be firmly fastened to wood. The CLT material is always straight and minor damager are easy to fix. Surfaces can be renewed easily and be finished as desired. CLT wood panels can also be coated with other cladding or decoration materials.
FAST
Celt Construction Elements are manufactured indoors. They are ready to use. Installation of the elements is fast and the solid wood structure doesn't require any drying time at the construction site. After installation, Celt Modules are ready for move in. The visible surfaces of Celt Prefab Elements are ready.
High-quality
residence
HEALTHY LIVING
Wood cleans the air. Wood removes the bacteria from air. Wood is a natural vapour barrier that absorbs and releases humidity according to the prevalent conditions. Separate vapour barrier is never needed in any CLT structures.
RELAXING FEELINGS
Wood is an organic construction material. The sight, touch and smell of wood brings people close to nature. Studies have shown that wooden material in a living environment has a relaxing, therapeutic effect. Wood is a delight for all the senses.
SAFE INVESTMENT
Massive wood structure has longevity. The properties of wood and laminated timber are well known. Solid wood panel structures have very few joints and are simple to build up. CLT solid wood buildings are airtight, incompressible and maintenance-free.
ENVIRONMENTALLY FRIENDLY
From the environmental perspective, wood is a superior construction material. Tree absorbs carbon dioxide from the atmosphere throughout its lifespan. The industrial manufacture of construction elements indoors reduces environmentally harmful construction site work, minimises material waste and reduce the construction rubbish costs.
Solid massive wood panel is a natural vapour barrier
Celt is partner of CLT manufacturers
As a producer of construction elements, we are independent of CLT manufacturers. CLT manufacturers' products differ from each other with manufacturing methods, surface qualities, element work, availability and dimensions.
We actively collaborate with several CLT manufacturers and we use CLT of different CLT producers. This operating model enables highly refined construction element products and project-specific cost-efficiency. Our greatest strength lies in the manufacture of visible solid wood surfaces.
Central Europe has a cluster of CLT panel manufacturers. CLT raw materials are also produced in Finland and new manufacturers are emerging throughout Scandinavia.