CROSS NAILED MASSIVE WOOD PANEL (Massiv-Holz-Mauer)
MHM consists of dried softwood joined together by fluted aluminium nails to form a solid, vapour permeable wall. There is no glue or other chemicals in the structure. MHM structure includes 5-15 layers. Maximum size of elements is 3,25m width and 6m length. Thickness can be 115-340mm.
MHM wall can be covered inside and outside in many ways. Exterior walls can be also insulated when the wall structure has better U-value. MHM can be used in all vertical structures. In horizontal structures of MHM house it is possible to use PHE (Profil-Holz-Element), CLT (Cross Laminated Timber), LVL (Laminated Veneer Lumber) or beam structures.
CELT MHM EXTERIOR WALL STRUCTURES
| | | | |
| --- | --- | --- | --- |
| Name of Structure | MHM thickness | Insulation | U-value |
| CELT MHM Solid 250 | 250mm | – | 0,34 |
| CELT MHM Solid 295 | 295mm | – | 0,29 |
| CELT MHM Solid 340 | 340mm | – | 0,26 |
| CELT MHM Insulated 295 | 115mm | Steico 180mm | 0,17 |
| CELT MHM Insulated 320 | 160mm | Steico 160mm | 0,17 |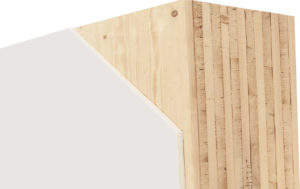 MASSIV-HOLZ-MAUER INFORMATION
Produced of dried untreated softwood
Layers are connected with recycled aluminium nails
There are no any glue or chemicals in structure
5-15 softwood layers
Element maximum dimensions: 3,25m x 6m
Element thickness: 115-340mm
Elements are calibrated, cutted and milled by CNC machine
Exterior surface options:
Wood panel cladding / Cladding board
Plastering
Interior surface options:
Board and painting
Interior cladding material: panel, board, softwood, plywood…
MHM is glue-free and cost-efficient massive wood construction material
MHM as building material
MHM IS MADE OF PURE AND RECYCLABLE SOFTWOOD
Massive MHM panels are made of economical softwood. In production chemicals are not used at all. The Massiv-Holz-Mauer® is easy to reuse and can be directly released for recycling at the end of its life cycle.
WOOD CREATES PLEASANT AIR INSIDE
Massive wood balances the moisture and temperature of the air. It's important to select interior surface materials so that the good features of the wood will be preserved.
MASSIVE WOOD IS SOLID AND FIRE-RESISTANT CONSTRUCTION MATERIAL
The Massiv-Holz-Mauer® is rated and certified as fire safety class REI 90 and has tested sound levels. Massiv-Holz-Mauer has also the dimensional stability.
MHM BUILDING IS ENERGY EFFICIENT DURING IT'S WHOLE LIFE CYCLE 
MHM achieves remarkably high insulation properties that by far surpass regular solid wood. In the total lifetime energy balance of your building (energy used in production, transportation, construction, occupation and demolition), the Massiv-Holz-Mauer® outperforms any other material by some distance. Dry and comfortable atmosphere is immediately perceptible in a MHM building right from the start. The material balances out temperature fluctuations and so regulates the interior atmosphere.
MODERN MANUFACTURING PROCESS ENABLES EFFICIENT AND INDIVIDUALIZED HOUSE PRODUCTION
Massiv-Holz-Mauer® versatility makes any floor plan possible – there are no restrictive grid patterns. Additional advantages are the freedom of choice in the wall geometry, in the individual design of the facade and in the insulation standard. MHM house build up is easy and simple and construction time is short. Detached house installation takes 2-3 days.
INTERIOR AND EXTERIOR SURFACES CAN BE TREATED IN COUNTLESS WAYS 
MHM is used as raw material of Celt Construction Elements, which have ready-to-use interior and exterior surfaces.
Celt uses Massiv-Holz-Mauer in Celt Construction Elements
Celt manufactures ready-to-use Celt Construction Elements – Celt Prefab Elements and Celt Modules. Different massive wood panel technologies as MHM, PHE, CLT and LVL can be used in different structures of a house. We optimize construction materials due the customer desires, use case and profitability. Celt offers structural and element design for MHM buildings.
More information about MHM: http://www.massivholzmauer.de
MHM sales and more information:
Kalle Vähäkuopus, kalle.vahakuopus@celt.fi / 0451146454