We manufacture highly processed construction elements using CLT panels as structure material. Construction is simple, cost-efficient and fast when you use Celt Construction Elements. Celt Construction Elements are assembled at the construction site; many times you can move into the building in just a few days. We use CLT panels from a variety of manufacturers. We select our raw materials according to the project purpose and customer needs. Our special expertise lies in producing visible solid wood surfaces. Our installation specialists are the most experienced CLT element installers in Finland. Many times both Celt Prefab Elements and Celt Modules are used on same project.
For CLT houses and individual buildings
Celt Prefab Elements are made of solid wood or solid wood and insulation. Solid Prefab Elements are like solid massive wood like log structures. Insulated Prefab Elements have insulation, fixing battens and cladding outside the CLT body. Celt's manufacturing process includes the final sanding and painting of wooden surfaces so that they are furniture quality and ready to use.
Celt Prefab Elements are used on the base floor, intermediate floor and roof of residential buildings, as well as on exterior and dividing walls. With Celt Prefab Elements, there is no need for interior surface treatment work at the construction site. HVAC and electricity installation is quick, thanks for ready milled routes for conduits and places for lightning, switches and ventilation ducts.
Celt Prefab Elements are particularly suitable for building individual buildings. CLT Prefab Elements are also an excellent solution in many other structural elements.
SOLID PREFAB ELEMENT

CLT structure
 A single, solid-wood structure, as in log buildings
CLT acts as a natural vapour barrier
Exterior surface: Sanded and painted CLT surface or a dedicated cladding, such as a panel, stucco or construction panel
Interior surface: Sanded and painted CLT or coating with another material
Option for interior and exterior CLT surfaces: flutings, brushing
Basic structure
Sanded and painted interior surface
CLT 240mm
Sanded and painted exterior surface
Total thickness of the structure 240mm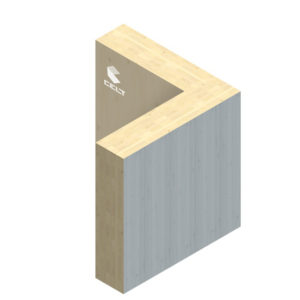 INSULATED PREFAB ELEMENT

The structure from the inside: CLT structure, insulation, fixing battens, cladding
Insulation options:

Rigid insulation, such as Steico, Paroc Cortex One, Kingspan or Finnfoam
Flexible insulation, such as Ekovilla fibre

Also passive building structure is possible
CLT works as a natural vapour barrier without plastic or vapour barrier paper
Exterior cladding: panel, stucco or construction panel
Interior surface: Sanded and painted CLT or coating with an other material
Option for interior CLT surfaces: flutings, brushing
Basic structure U=0,15
Sanded and painted interior surface
CLT 100mm
Paroc Cortex One insulation 180mm with wind shield surface
Fixing battens 2 x 22mm
Cladding panel 23mm
Total thickness of the structure 347mm
Rigid insulation
Utilization of Celt Prefab Elements
Individual buildings:
Detached houses, semi-detached houses, terraced houses
Villas
Nursing homes
Schools and other public buildings
Stores, offices
Agricultural buildings
Building structures:
Noise barriers and other dividing walls
Solid wood façades
Intermediate floors for timber buildings
Terraces and docks